YAMAHA SUPERJET 700 jet ski wrap graphics pwc stand up jetski decal kit SUPER A1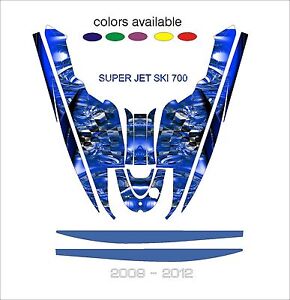 ---
This listing is for any year  OLDER AND NEWER YAMAHA SUPER 700 JET jet ski racing graphics decal kit,
The 2009 - 2014 model has the other lower tunnel pieces ( design will match) please e-mail me or add to paypal if you have the newer superjet. and we can make this for the flat nose superjet 90-95
This wrap is 18 mill thick graphics made with the best 6 mil vinyl on the market and then laminated with a 12 mil thick glossy laminate.
Very strong and durable
we can change colors see in the picture the colors we have .
Otherwise we will ship you the BLUE kit in picture #1
We are a company that makes wraps for dirt bikes, atv's ,side x side, jet ski's, and snow mobilies.
If you like custom work please contact us.